Skillshare Premium Cookies (Online Classes for Creatives) offer a unique opportunity for creative individuals to further their skills without the need to attend a physical classroom. With over 27,000 classes available, Skillshare provides an extensive range of topics from design, animation, photography, to web development, business strategy, and more. With an array of video tutorials provided by experts and professionals, Skillshare Online Classes for Creatives provide an interactive and engaging learning experience. Furthermore, classes are designed to be completed at the learner's own pace and with the ability to join a community of like-minded individuals, the learner is provided with the support required for their creative development. With flexible course content and resources, Skillshare Online Classes for Creatives provides an excellent platform for creative individuals to expand their knowledge and skills.
Are you a Skillshare enthusiast looking to get the most out of your subscription? If so, then this blog post is for you! We've got the best daily updated premium cookies that can help you access all of Skillshare's resources without having to pay for them. Enjoy learning from the best teachers and experts in their fields with our easy-to-use cookies!
You may also like: https://blogs.warezservers.com/benefits-of-envato-elements/
What is Skillshare Premium?
Skillshare Premium is an online platform that offers access to thousands of high-quality classes covering a variety of topics such as design, business, technology, and more. It provides an affordable way to learn new skills and gain new knowledge. With Skillshare Premium, users can access exclusive projects, workshops, and other premium content. They can also get personalized recommendations and access to their own library of courses. Furthermore, members can connect with other learners from all over the world and collaborate on projects. With Skillshare Premium, users can take their learning to the next level.
How to Get Skillshare Premium for Free?
For those who want to get Skillshare Premium for free, there are several options available. One way to do this is to use the Skillshare Premium Cookies. These cookies are updated hourly and are free to use. They contain login details like username and password, which allow users to access the premium content on Skillshare. Additionally, users can download the Cookie-Editor Chrome extension to manage their cookies and keep track of their expiration dates. It's important to note, however, that these cookies are only valid for a certain period of time and users do not need to give notice when they are updated.
You may also like: https://blogs.warezservers.com/free-spotify-premium-cookies/
What are Skillshare Premium Cookies?
Skillshare Premium Cookies are browser files that contain Skillshare premium login details like username and password. These cookies help users to access premium courses and other content on the platform without having to pay for a subscription. They are usually updated on an hourly basis, so you don't need to worry about them expiring. They are free to use, so you don't need to pay anything to use them. With these cookies, you can enjoy the advantages of Skillshare Premium without spending any money.
Where to Find Updated Skillshare Premium Cookies?
Now that you know what Skillshare Premium cookies are and how to create your own, you must be wondering where to find updated Skillshare Premium Cookies. Fortunately, finding updated Skillshare premium cookies is not a difficult task. You can find them online on various websites that offer updated premium cookies for Skillshare. These websites usually update their cookies on an hourly basis so you can get the latest and updated cookies for free. Additionally, there are also extensions available for Chrome and Firefox browsers that allow you to get the latest Skillshare Premium cookies. With these extensions, you don't even need to visit different websites to search for the latest cookies as they will be automatically updated in your browser.
Note: If this are not working or expired, please comment below or message our Telegram.
How to Create Your Own Skillshare Premium Cookies?
If you'd like to create your own Skillshare Premium cookies, it's quite simple. All you need to do is create a new profile in your browser, then log in to your Skillshare account. Once logged in, the browser will automatically store the login details as cookies. You can also use a plugin such as Cookie-Editor to edit these cookies and customize them to suit your needs. This is a great way to keep your Skillshare Premium account secure and private, as well as having easy access to the features of the premium membership.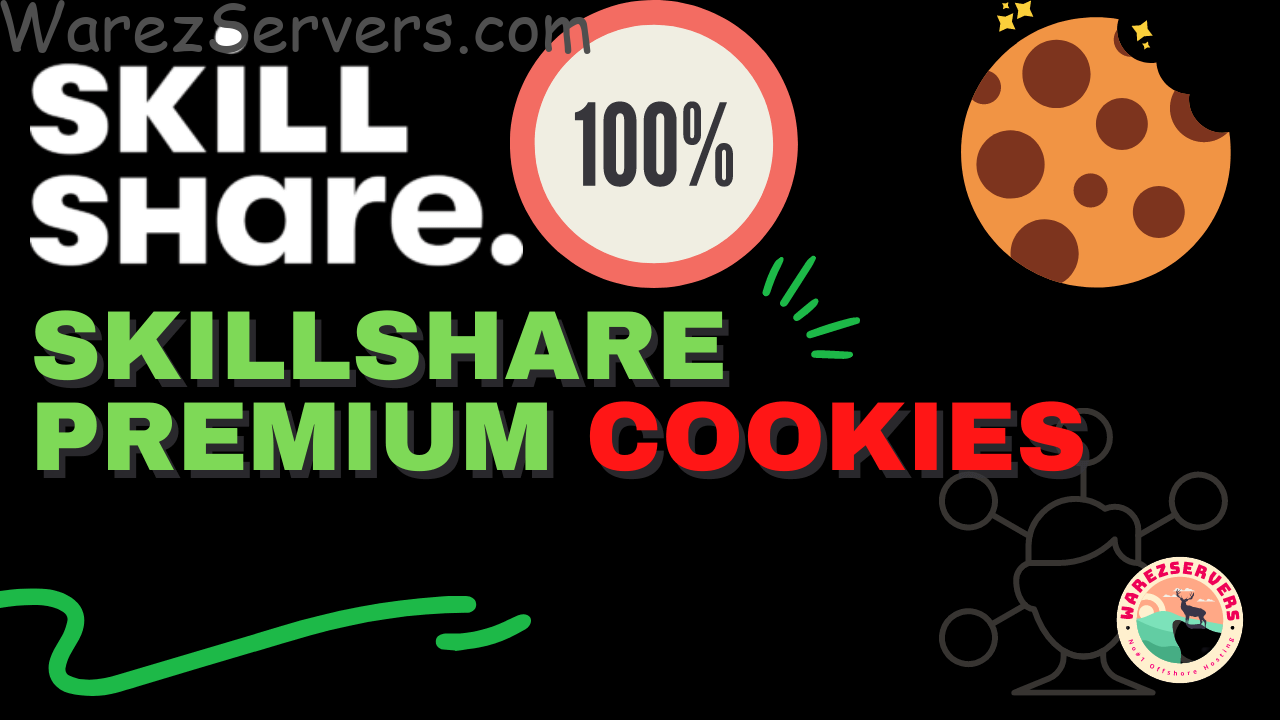 What Other Alternatives Are Available for Skillshare Premium Membership?
If you are not looking for free alternatives for Skillshare Premium, then there are a few other options that you can choose from. These include paying for a monthly subscription, or purchasing an annual subscription. Both of these options offer access to all of the premium content on Skillshare, including unlimited classes and course materials. You can also purchase credits for individual classes and videos, or purchase a bundle of multiple classes and videos. In addition, there are some bundles that offer discounts when you purchase a certain number of classes or videos at once. No matter what your budget is, there is an option that can fit your needs.
Skillshare Premium Review: Is it Worth It?
With the help of Skillshare's premium cookies, you can get access to a variety of premium courses and features which makes it worth investing in. Not only that, but you can also get free access to their courses, which makes it very attractive for people who are looking for cost-effective ways to further their learning. Moreover, the cookies are updated on an hourly basis, so you can always stay up-to-date with the latest content. All in all, Skillshare Premium is a great option for those who want to learn and explore new things without spending a fortune.
Some Important F.A.Q for Skillshare's
Can I get credit for taking classes through Skillshare?
Yes, you can! Skillshare gives you credits for your classes, so you can earn more points and get more free classes. You can also transfer your points to other services like Udemy and Coursera.
How do I sign up for a class?
You can sign up at the Skillshare website.
What if I don't have a lot of money to spend on classes?
Skillshare has a monthly subscription fee, but if you're new to Skillshare, you can try out the free trial for 30 days.
What if I want to take more than one class?
Skillshare allows you to take as many classes as you want, but you can only do one class at a time.
What if I don't want to pay for classes?
If you don't want to pay for classes, you can take them for free through Skillshare.
Skillshare Premium Cookies program offers a great way for users to get premium content for free. The program offers a variety of cookies, including some that are only available for a limited time. The program is a great way to get access to premium content, and it is a great way to get free content.