Worried about website security? Discover the ultimate guide to secure your website from hackers with our curated list of the 15 best essential methods. Learn how to secure your online presence with these effective and affordable strategies today!
The initial step for a business to embark on its internet journey involves establishing its own website. This undertaking could be quite challenging as it requires ensuring the website operates efficiently and achieves success. Additionally, safeguarding it from the numerous risks prevalent on the internet, such as hackers, is crucial.
The question that may be on your mind right now is – what is a hacker? A hacker is a person who gains unauthorized access to your computer system and manipulates the information stored within it without permission.
Hacking can occur for various purposes, including but not limited to, the theft of data, destruction of information, installation of malware, or disruption of services.
In the vast online realm, there exist individuals known as hackers who possess the ability to seize control of your website, alter its contents, or illicitly acquire valuable data and information. Should you fall victim to their nefarious practices, the ramifications could be immensely detrimental to your overall well-being and prosperity. You can put your worries aside because we have discovered the most effective solutions to safeguard your data from these hackers.
Common website security threats
Data breach
Denial of Service (DoS) and loss of website availability
Ransomware
Stolen passwords
XML external entities (XXE)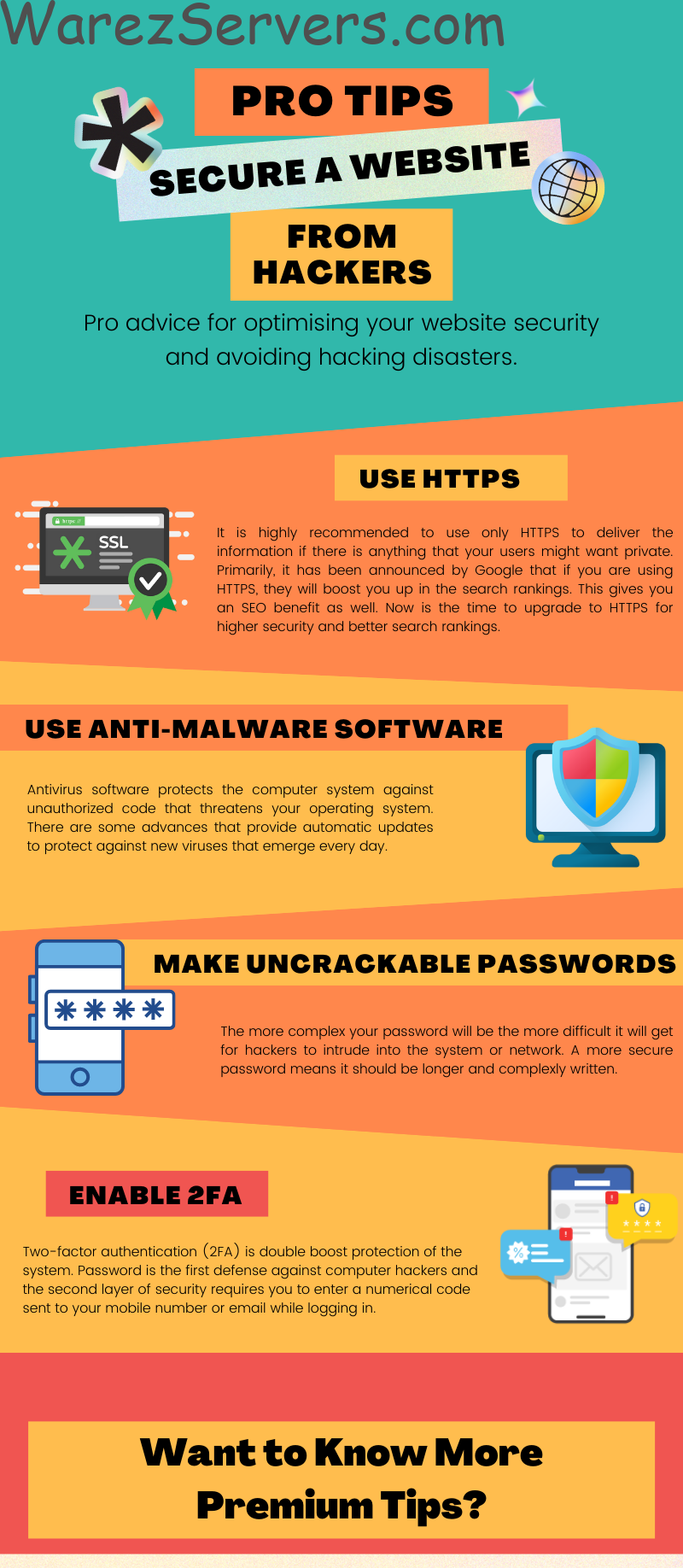 Top 15 Website Security Tips for Protect your Website from Hackers
Here are You can safeguard your website from dangers by adhering to these 15 simple steps. and allow you to work without worry.
1. Use HTTPS: HTTPS is an internet protocol that ensures security by preventing any tampering or disruption of the content being transmitted between users and the server.
strongly advised to employ HTTPS (SSL certificate) as the sole medium for transmitting sensitive information, particularly when your users desire to keep it confidential. Essentially, this approach has attained a significant level of endorsement. Google has announced that if you use HTTPS, Implementing HTTPS on your website will not only enhance security measures but also improve your search engine rankings, thus providing you with SEO advantages. It is advisable to make the transition to HTTPS now in order to enjoy these benefits.
2. Use Anti-Malware Software: Computer viruses and malware are everywhere nowadays. By employing anti-virus software, you can safeguard your system from various types of threats, be they significant or insignificant. This software serves as a protective measure against unauthorized code that poses potential risks to your operating system. Additionally, there are advancements in antivirus programs that offer automatic updates, ensuring that your system remains shielded from new viruses that are constantly surfacing.
3. Make Uncrackable Passwords One effective method to guard against network intrusion is to utilize a robust and intricate password. The more complicated your password is, the harder it becomes for hackers to infiltrate the system or network. A stronger password is characterized by its length and complexity. To construct a secure password, incorporate a mix of capital and lowercase letters, numbers, and computer symbols. Mainly WordPress site Hacking Ratio is high, So must use complex password in your WordPress
4. Make sure your website is regularly updated: It is crucial to regularly update your browser, apps, and operating system (OS) to ensure optimal security. Upgrades often contain fixes that prevent hackers from accessing and compromising your data. Nowadays, web browsers are continually improving their security and privacy measures. After updating, it is essential to review your browser's security settings to guarantee comprehensive protection.
5. Don't Help The Hacker: Beware of deceiving tactics by hackers via spam emails, links, messages, and similar means. They can exploit these methods to gain unauthorized access to your system, without you being aware. Avoid engaging with suspicious messages from unfamiliar sources and remember to label them as spam. In today's era, there is an increase in the usage of advanced emails or messages that imitate your friends or appear authentic. It is important to thoroughly verify everything and remain vigilant for any suspicious signs.
6. Setup Manual Command: Establish a manual command configuration that prohibits manual data input to prevent the risk of hackers extracting the information entered. It is crucial, particularly when employing a shared logging system.
7. Take Regular Backups: It is important to periodically create a backup of your data to safeguard against potential corruption from viruses or malware. For website owners, it is crucial to regularly back up the information, content, and data on your site to avoid the risk of losing or damaging data. This precaution is particularly significant for those operating online businesses or e-commerce websites, as it can prevent substantial losses.
8. Automatically secure your website by creating a backup.Arrange for your website to perform regular automatic backups, which will ensure that even if you happen to overlook backing up the data manually, the site will handle it automatically. This feature can also be beneficial in terms of time and effort saved.
cPanel VPS Hosting offers a dependable and safe environment for hosting websites, equipped with cutting-edge security functionalities that enable you to safeguard your website effectively against malicious hackers.
9. Prevent your website from being vulnerable to file upload issues.If your system allows users to upload malicious files, it will make it very easy for hackers. Ensure that your system is protected from file upload vulnerabilities by verifying the file type before allowing it to be uploaded. Also, check if the system is configured to restrict harmful file extensions and provide protection against malware.
10. Use An Activity Log: Activity logs are valuable instruments that are employed to examine how one's time is spent on a system, app, or web. When something unexpected occurs on a user's system, the activity log is typically the initial aspect investigated. In cases where unauthorized individuals attempt to engage in dubious actions on a system, the activity log can serve as evidence to confirm the timing and identity of said actions.
11. Enable 2FA:  Two-factor authentication (  2FA Double boost protection of the system involves two layers of security. The first layer is a password, which serves as the initial defense against hackers. The second layer entails entering a numerical code that is sent to either your mobile number or email during the login process.
12. Limit Login Attempts: To enhance security, it is recommended to set a restriction on the number of login attempts a user can make. Imposing such a limitation helps prevent unauthorized access and also triggers system security notifications for additional protection.
13. Web Application Firewalls (WAFs): This can add an additional layer of security. These firewalls filter out bad traffic and keeps your website safe from various types of online attacks. Adhering to these practices allows for a secure and smoothly operating website.
14. SQL injection:  It is a code injection technique that attackers use to exploit vulnerabilities in a web application's database layer. By inserting malicious SQL statements into an entry field, hackers can gain unauthorized access to data, which can result in identity theft, data theft, illegitimate transactions, or other serious cybercrimes. Therefore, it's important to guard against SQL injection threats.
15. Protect against XSS attacks: Cross-site scripting (XSS) attacks pose a significant threat to web security. To protect against them, one should validate and sanitize user inputs to prevent the injection of malicious scripts. Employing HTTP-only cookies can help protect sensitive user data. Additionally, using security headers like Content Security Policy (CSP) can further restrict potential vulnerabilities.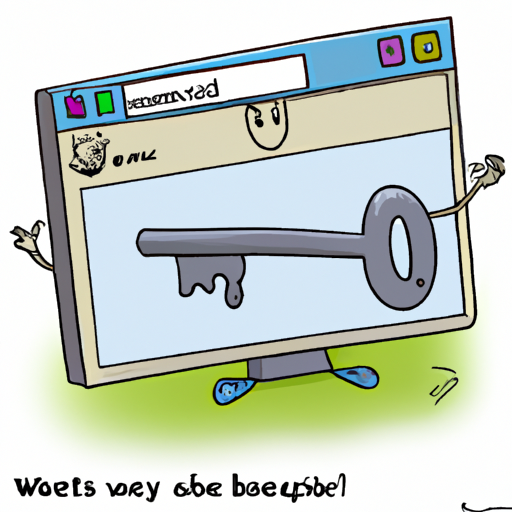 Things That Will NOT Help To Protect Your Website from Hackers
 Opting for a bad web hosting provider, having low bandwidth, or prolonged downtime can gravely affect your website's security issues. A subpar hosting provider often fails to offer essential protective measures, making your site more susceptible to attacks. Similarly, low bandwidth can dramatically slow down your website, creating a poor user experience and potential security risks. Furthermore, persistent downtime provides an opportune moment for cybercriminals to exploit system vulnerabilities, leaving your website's security compromised.
 FAQs –
How do I secure a web server?
In order to ensure the security of your web server, it is important to install antivirus software on your system, generate robust passwords for website login, and implement two-factor authentication as a means to prevent unauthorized entry.
Can a secure website be hacked?
If you have a robust defense system against malware and viruses, it becomes highly challenging to breach a website through hacking. It is crucial to regularly update your system and adequately backup your data.
What steps can I take to ensure the security of my website without incurring any cost?
To ensure the security of your website without incurring any cost, it's advisable to install a reputable Free Security Plugins. Such plugins offer tight security measures, including firewall protection and malware scans. Also, using Free Security Tools will help monitor your website traffic for any unusual activities, which can prevent potential cyberattacks.
Why should Companies Secure their Websites from Hackers?
Companies should secure their websites from hackers to protect sensitive data, such as customer information, financial details, and proprietary secrets. Hacking can lead to significant losses, both financial and reputational. Additionally, under data protection laws, companies might be subject to heavy fines for failing to shield customer data adequately. Therefore, robust cybersecurity measures not only safeguard important business and customer data but also build trust and credibility with customers and stakeholders while ensuring compliance with legal requirements.
What are 2 likely indicators that a website is a safe place to make a purchase?
Two likely indicators that a website is a safe place to make a purchase are the presence of Distributed Denial of Service (DDoS) protection and encrypted payment processing. DDoS protection ensures the site's stability and continuity against online attacks. Encrypted payment processing secures your financial data from potential cyber threats.
Can Someone Hack My Website?
Every day, numerous individuals attempt to unlawfully access various computer systems, making it essential to ensure the system has suitable safeguards in place.
By adhering to the simple steps outlined above, you can effectively block unauthorized access to the system, denying entry to hackers. Additionally, your privacy and data can be safeguarded through appropriate preventive actions.